PREVIOUS EXHIBITION

NEW YOU
The "New You" exhibition is centered on the idea of resetting your life after the COVID-19 crisis. Who are you now? What was your breakthrough moment? What is your new beginning? It all starts with you.
Nine local Amsterdam artists dive into these questions with their work on display in the Sir Art Studio. Artists Antoine, Alljan and Deyrinio take you on a journey of sustainability. They explore the ongoing life of a piece of fabric, transforming pieces into whole new artforms. Aron asks you to examine yourself through the abstract profiles of anonymous individuals. Daan uses fine drawing to explore the divinity of mind, body and soul selfcare. Corine and Esmay make the connection between your inner you, the new you and how society will capture the new you.
On Saturdays, you can pick up your Hanging Petals dried flower arrangement at the Studio, available for pre-order starting at €25. In the spirit of the exhibition, the flowers had former lives and continue on in their new lives. The beautiful bouquets remind you to celebrate and be kind to the new you.
Aron Kroes
Aron mainly focuses on painting–exploring the boundaries of the figurative through an abstract lens. Aron's paintings often have a chaotic character with unexpected beauty sprinkled throughout. Although his works can always be traced back to the basic forms of a portrait, the abstraction takes the viewer into a world which balances expressive shapes and a rich color palette.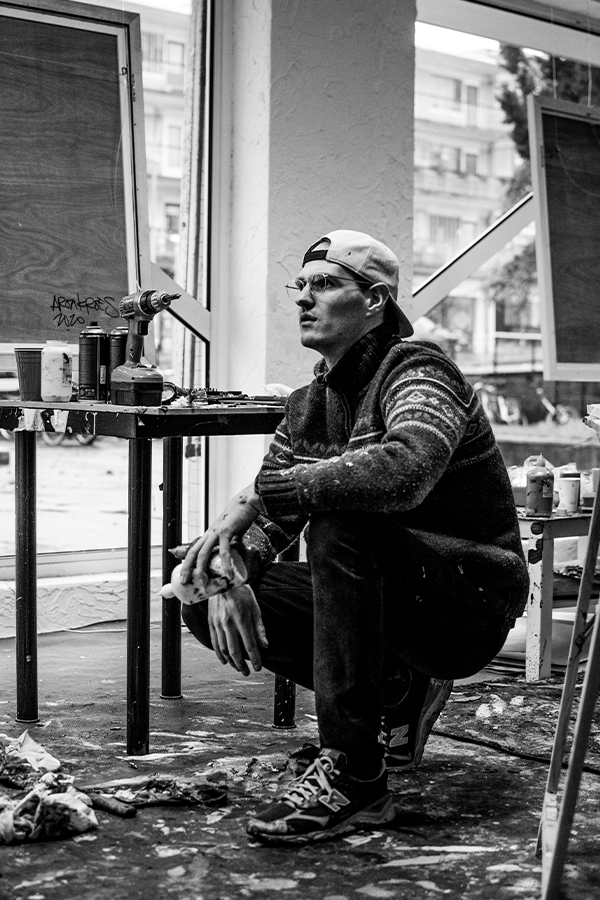 powered by X BANK Amsterdam