Fellow magazine heads, there's a beautifully designed, artfully written new indie magazine on stands that you're going to want to get your hands on: Citizen. It's dedicated to documenting Black nuance, culture, intellect and aesthetics, created by Black thinkers and creatives. In its short time, it's already featured such luminaries as Roxane Gay, Tyler Mitchell and Nikole Hannah-Jones. The editors-in-chief, Danielle Powell Cobb and Henrietta Gallina, tell us how it came together. Find it in your room at our Sirs in Barcelona and Amsterdam.
What holds the pages together is the vast experience of Blackness that stretches the globe.

Where did the idea for Citizen come from?
The idea for Citizen was born in 2017, really out of a vision that Danielle and I saw for our dream magazine that we felt did not exist at the time. We're both lifelong fans of printed magazines and books and how these publications bring together design, art and writing to represent an idea. We saw a world of Black creatives around us that seemed to not be represented in this way and we selfishly wanted to have THAT magazine in our hands.


Who are the people behind Citizen?
Danielle and I are the founders, publishers and co-editors in chief, but Citizen in practice and purpose is made by many hands, minds and contributions. Each issue enlists a cohort of editors and contributors that changes and evolves. I would describe the people behind Citizen as a collective who inform and manifest each issue.

How did the name "Citizen" come to be?
The name "Citizen" was derived from the idea that Black "citizenship," or the right for Black people to belong as equals, has always seemed to be in question, not just in the political sense but in the context of almost every cultural institution and creative practice we are familiar with. By naming this publication Citizen, then filling its pages with Black images, words and ideas, each page becomes an insistence and a repeated declaration.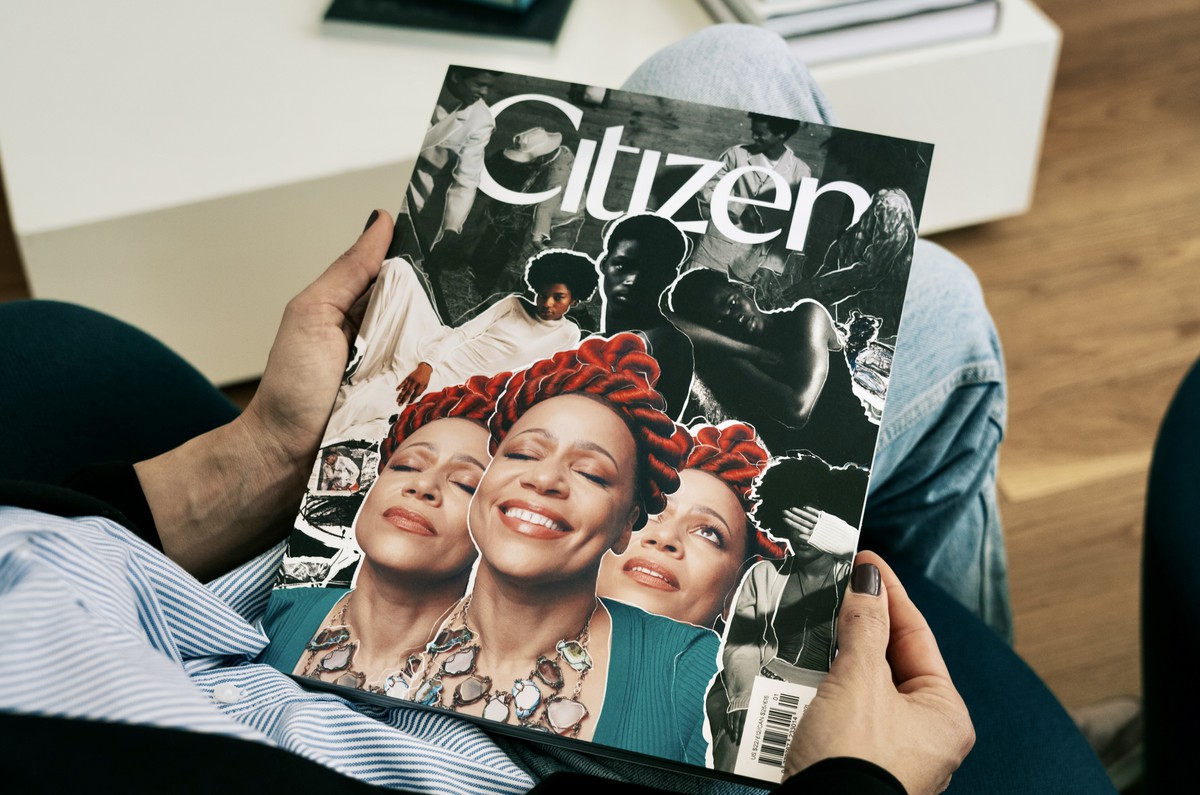 What defines Citizen? What can readers expect from every issue?
The only things that define Citizen are our contributors, their interests, concerns and points of view. Ultimately, Citizen will evolve with the community that contributes to its pages. Every issue aims to be completely different from the one that came before, but the constants will always be an aesthetic and intellectual view of the world filtered through the lives and experiences of Black people. Citizen is not a fashion magazine, it is not a literary magazine, it is not an arts and culture magazine, but instead what holds the pages together is the vast experience of Blackness that stretches the globe.


What do you hope readers walk away with?
We hope our readers discover things both new and known, that on some pages they see themselves, on others they see something far beyond themselves, and that they reach the last page of each issue in a world that feels just a bit larger than the world they lived in when they pulled back the cover.