We had a chat with one of fashion's most hyped German talents ahead of his pop-up shop at Hamburg's Sir Nikolai.
If you were to ask fashion editors what designer coming out of Germany to keep your eye on right now, their response would likely be William Fan. Vogue Germany, Women's Wear Daily and more have sung the designer's praises for his singular, clear vision that is always impeccably executed.
If you find yourself in Hamburg the 11th and 12th of October from 10:00—20:00, you're in luck—the much-hyped talent is bringing a special pop-up shop of his designs to Hamburg's Sir Nikolai. We asked him three questions to get us all even more excited than we already are.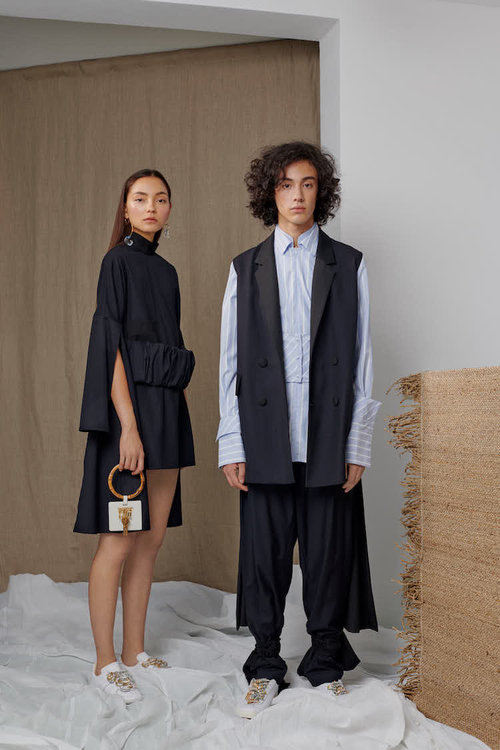 This past July, you hosted your Berlin Fashion Week show at the Museum of Decorative Arts. What did you learn about yourself as a designer this time around the Fashion Week block?
It was a big honor to have the opportunity to showcase my collection in this special occasion. I felt like a little kid that had the chance to move exhibits and had the freedom build up a WILLIAM FAN world in this surrounding. It was a special experience to welcome my guests in this historical building full of arts and precious objects. The guests were very observant, focused and really concentrated on details during the 15-minute show. For me, it's crucial to create an experience for myself and my audience. I am always looking for this special surprise and edge which helps me to put the coming season in a particular frame. I learned for myself to always be personal and not be dependent on the industry. If I have the gut instinct to have a presentation, I will follow this feeling.
You've previously lived in Hamburg and are currently based in Berlin, our two homes in Germany, too. What do you love about each city?
After my studies, I moved to Hamburg for my first job. I really enjoyed the untouched beauty and the historical architecture. Hamburg is a very elegant city. I especially like the port, the water and Nordic attitude. I met many of my closest friends there and had legendary evenings in Sankt Pauli.
For my master's degree I moved to Berlin and felt immediately at home. Berlin was also the birth city of my company and gave me a lot of opportunities. I built up my brand here and got to know a lot of vivid people. You have a great cultural exchange and the living quality is very high. What I like most about Berlin is the diversity of the different quarters. You can draw energy from any part of town. Berlin has an infinite range of personalities and ways of living.
What are some of your favorite pieces that you're bringing to your pop-up at Sir Nikolai?
We will bring our AW19/20 collection. From soft Mongolian cashmere to our exquisite Austin boots, we show a full range of our portfolio. The guests will experience the sharp tailoring, elegant layering, vibrating colors and the finest materials worked into timeless but special items. My favorite piece is definitely the cable cashmere knit "Kiki jumper", which is the best investment for the coming winter season.
The William Fan Pop-up Shop
11 & 12 October
10:00—20:00
Sir Nikolai
Katharinenstraße 29
Hamburg